Offering An Advanced Spin On The Classic Treatment
There are a wide variety of reasons why adults look for orthodontic treatment. Some people strive for a picture-perfect grin. Some people simply need to have their alignment adjusted. Overbite, underbite, and misalignments are all problems that affect people. In whatever form they take, orthodontic braces can profoundly affect a person's quality of life by enhancing their confidence, facilitating better dental hygiene, and reducing the distressing consequences of improper jaw growth.
Our team of professionals at Elevation Orthodontics knows full well that few people have naturally straight, evenly-spaced teeth. Our friendly staff will make you feel at ease when you walk through the door of our East Nashville location and see how they can help with your orthodontic needs. With so many different options for adult braces in Nashville, TN, you'll want to discuss your needs and goals with Dr. Brice and the rest of our amazing orthodontic team.
InBrace®
If you've heard of InBrace, then you know about the most cutting-edge and modern lingual braces available. With InBrace, you get the efficiency of traditional braces, the stealth of lingual braces, and the convenience of aligners. InBrace is an intuitive and intelligent behind-your-teeth appliance with no visible wires, icky trays, or monthly adjustments.
How InBrace® Works
Your orthodontist, Dr. Brice, will virtually model your teeth and use advanced AI software to create your custom Smartwire®.
Your personalized Smartwire® is applied to the back of your teeth by your orthodontist.
Using gentle pressure, the Smartwire® will slowly and continuously move your teeth into place. No painful monthly tightenings or tray changes.
You just keep doing you – brush and floss normally and watch your smile get better over time.
Tiny Wire. Massive Benefits.
InBrace isn't like other teeth straighteners. Created by orthodontists, the Smartwire system works like autopilot. The Smartwire is programmed with Gentleforce® technology from advanced shape memory alloy to gently move your teeth into place.
This means no monthly tightenings or tray changes. And you can eat, drink, brush, and floss normally while the treatment keeps working. Some of the top benefits of the InBrace system include:
The Smartwire® System – Highly intelligent, unassuming, and custom-fit specifically for your teeth and treatment plan.
Gentleforce® Technology – Gently and efficiently moves teeth into place according to your pre-programmed treatment plan.
Friction-Free Tooth Movement – No sliding mechanics or uncomfortable adjustments are required. Smile, this is gonna be easy.
Healthier Teeth – Protects the long-term health of your gums, teeth, and mouth. (And you look good, even in treatment.)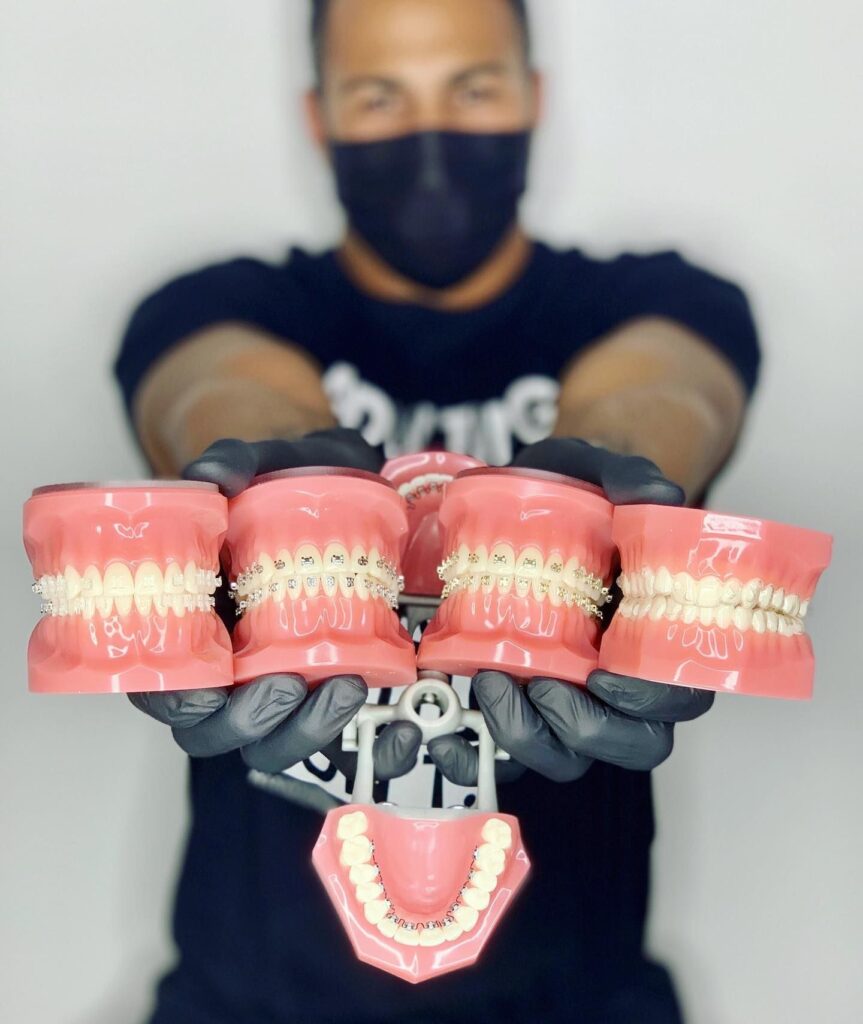 Traditional Metal Braces
Metal braces, as their name suggests, are made entirely of metal, typically stainless steel. Thin rubber bands will also be included in some designs to help keep the wires on each bracket in place. The bands for our traditional braces come in a wide range of colors, so you can tailor your treatment to match your unique aesthetic preferences.
Although they are the most noticeable option, traditional metal braces for adults in Nashville, TN, continue to be one of the most popular and effective methods of teeth and bite alignment. Their metal construction ensures that they will last and serve their purpose well.
Ceramic Braces
Ceramic braces are an excellent alternative to metal braces because they blend in better with your natural tooth color. They work just as well as metal brackets at achieving the desired correction, but they aren't always the best choice for patients as they do tend to require meticulous cleaning to ensure that they continue to maintain their discreet appearance. However, ceramic braces can be an excellent choice for those who are diligent about their orthodontic care.
Gold Braces
If you want to make a fashion statement, gold braces might be the way to go. These braces are made of high-quality stainless steel and are gold-plated for a touch of class. When compared to stainless steel, the gold color of the brackets is slightly more discreet, making it blend in better with your teeth and allow for a more aesthetic appearance.
Steel and gold braces are functionally identical, with only the color being a cosmetic difference. It is up to you to choose the color and style that best suits your personality. As an added touch of individuality, you can use bands of varying hues to secure the wire in the brackets.
LightForce
One Size Fits One™
LightForce offers treatment that's as unique as a fingerprint. We're proud to offer this cutting-edge solution that unites modern 3D-printing technology with fully digital treatment planning to provide you with a great experience and results. LightForce crafts custom-made braces that are built to precisely match the unique shape and orientation of your teeth, meaning that the overall treatment time is expedited resulting in fewer office visits being required.
With traditional braces, the brackets tend to be mass-produced and require our doctors to place the brackets on each individual tooth, one at a time. This procedure can be quite meticulous and time-consuming for both doctor and patient! However, with LightForce, we use indirect bonding, which means the entire set of brackets is placed on a model of your smile in the exact position Dr. Brice prescribes. Once the brackets are fitted, they are bonded directly to your teeth, and with this technique, the brackets can often be placed in less than an hour!
Ultimately, LightForce braces offer a custom fit for every patient and are one of the most cutting-edge technologies available in orthodontics. The sophisticated 3D technology allows our team to provide the kind of custom treatment that isn't available with traditional braces. As mentioned, the brackets are entirely customizable and are designed around each patient's teeth, which means less discomfort, more effective straightening, and shorter treatment times. LightForce is the next generation of tooth straightening: It's more efficient, more personalized, and more convenient than any other option on the market. LightForce planning also takes each patient's jawline, lips, and facial layout into account, which enhances the final outcome and appearance.